The Past and the Future of KIMOTO GLASS TOKYO

Is the heart reflected in the glass?
Wooden boards, rubber boards, and corkboards. Polishing craftsmen use different tools skillfully for processing glass surfaces. The opaque glass starts to shine clearly as the surface is polished carefully.
However, the polishing process is not over yet. Next, they will buff the glass using diluted cerium oxide to add more lusters. This elaborate process applies in the same manner for a glamorous Edo Kiriko engraved with fine patterns, and basic glassware.
For how long will the glasses be polished? Buffing is done until I am satisfied, the craftsman replied to such a question. The standard set within oneself is never changed, and this buffing process will continue. By having gone through this process, the glass items will be given lives now as "products".
When you hear the word glass products, many people might image gorgeous cut glasses and molding glass using blowing rod, known as glass blowing. But, in reality, they are produced by following many different processes. There are many methods of processing the glass surfaces. Not all are eye-catching processes. Many are plain and quiet processes. KIMOTO GLASS TOKYO's role is pay full respect to each process, technique, and method to produce glass products with high degree of perfection.

We want to support the future of the industry.
Our partners are our biggest assets.
Pushed behind by the low cost overseas products, Japanese glass products market continues to shrink. As factories and craftsmen are disappearing, we want to support the future of the industry by producing glass products with Japanese tradition that fits modern lifestyles.
KIMOTO GLASS TOKYO, who has been facing the glass products with such determination, has many reliable partners. One of them is the glass factory, which has been respectfully producing over 10 thousand types of glass products by the hands of experienced craftsmen.
If you look inside the factory, you will see a gigantic kiln placed in the center, and many craftsmen devoting themselves to their own work.
One craftsman coils the glass base from the kiln to the blowing rod and molds it into a vessel. After pinching and pulling the tip using a tool, another craftsman will place the glass coiled on the rod to make the base. There is another, attaching colored glass grains to the tip of the rod and coiling melted glass and stretching along the frame skillfully using a tool. It is always fascinating to watch craftsmen creating each product one by one, imaging the thickness, shape, and size by making full use of their space creation ability.
Everyday from evening to morning, the kiln worker will add mixed sand to vitrified glass body to prepare the glass base for the following day. The base for all glass products – flashed glass, glass with drawing leg, cracked glass - is "melted glass" made by the high temperature of over 1600 degrees Celsius. On a hot summer day, the temperature near the blast furnace will rise up to 80 degrees Celsius. Undaunted by the severe working environment, their exquisite teamwork and high skills have enabled colorful glass products.
These all-round factories are the basis of craftsmanship. It has been 80 years since our foundation as a wholesale dealer. We will continue to place constant orders by making full use of our strength to "grasp the market", which has been developed by looking thoroughly at what is marketable and what is not. Our partners are our precious assets.

Whether to challenge or not, the age doesn't matter.
We've learned a lot from that.
Is protecting the Edo Kiriko technique enough? Isn't it necessary to make innovative products with new values that suit the modern lifestyles?
Such an idea created the black Edo Kiriko, the modern cuts on coal black glass. I have learned many things through the creation of this product, which merged the designer's innovative idea and the craftsman's techniques.
They are not conservative craftsmen who just follow the old style. They are eager to challenge new things and break out of their shells. They dare to step in to areas that are thought to be impossible, and they hope to obtain new techniques. Aggressive craftsmen with such beliefs surely exist.
Whether to challenge or not, the age doesn't matter. It is the sense and spirit that become the conclusive factors. With the experienced skills, the fresh senses, and never ending challenging spirits, let's create Edo Kiriko with new world view. This is how the MOON - the black Edo Kiriko expressing waxing the waning of the moon – was created. When beer is poured to the glass, the full moon will appear, and as you drink, the moon will wane. We were stunned by the designer's idea. This is indeed what witty Edokko (or people in Edo, Tokyo) would really fancy.
However, expressing the curve of the moon by Edo Kiriko is extremely difficult. While many craftsmen refused saying it is impossible, one willingly accepted.
This is difficult. Only I can do it. If you think you can do it, then try. It sure is difficult, but it's exciting to imagine how it will turn out. I can't wait to see how it will be, so I always push myself too much.
As he spoke cheerfully, I watched the craftsman's hand smoothing out the curve of the moon, and I could see his craftsmanship spirits overflowing. It gives me considerable pleasure to see the craftsman's skill engaging perfectly with the designer's idea. I can witness the creation of a new value. It is this new value that creates the new market and the new demands. The collaboration of craftsmen and designers will set a fire on my challenging spirit.

Our mission is to protect and develop the tradition.
The history of Edo Kiriko, which is a technique to cut glass surface, will go back to the end of Edo Period.
In Meiji Period, Edo Kiriko with Japanese patterns of palisades, hemp leaves, chrysanthemums, bamboos, and cloisonné were modernized. Technical experts from England were invited to promote the industrial development policy. From Taisho to early Showa Period, Edo Kiriko becomes a luxury and flourishes as they were used not only for tableware, but also in daily necessities and lightings.
KIMOTO GLASS TOKYO was founded in the same period. We have been in the Edo Kiriko and other glassware business for 80 years since the foundation in Showa 6, (1931) in Asakusa, Tokyo. Recently the glass industry is on the rapid decline. When cut glass processing is mechanized and mass-produced, low price imported products flows over. Many manufacturers and factories were forced to shut down or withdraw from the market. The Wholesale business was not an exception. Many companies in the same business had disappeared. The market shrunk and changed drastically. When market shrinks, so will the craftsmen's work. And when they have less work to do, they won't have enough to spare to develop a successor. There are fewer young people joining the industry to fulfill themselves. The industry faces many deep issues such as aging of craftsmen and shortage of successors.
As the market hang low, my thoughts on craftsmanship has greatly changed. It is not enough just to place orders to the creators and sell the products. Instead of simply moving things from right to left, we must actively participate in the production and challenge the industry.
Shifting our course brought hope. The new Edo Kiriko, which is a fusion of the designer's free ideas and other industry's knowledge and techniques, and also with the tradition at base is obtaining many fans. Young successors are gradually developing. The spread of Internet has diversified the market. We hear more and more from the designers nowadays.
We must not decay Edo Kiriko, which lives within the heart of Japanese people. Having the awareness of danger and a big hope, we will cut our path through Edo Kiriko. That is our task and mission - to protect and develop the tradition. We want to devote ourselves to our role.

Our partners essential in creating attractive products
What is necessary in producing attractive glass products? Technique, experienced skill, or innovative ideas? All are essential. What are important are our cooperating partners. Apart from polishing and cutting, there are many craftsmen sand blasting, luster processing (attaching think clear metal sheet to prints and surfaces), and silkscreen printing. KIMOTO GLASS TOKYO's strength is the diversified technical network specialized in each fields. Craftsmanship without partners is impossible.

We produce all glass with craftsmanship.
We are KIMOTO GLASS TOKYO.
For over 80 years, we have been watching the market trend as a wholesaler. What do consumers demand in glass products? What elements differentiate products that sell and don't. What is required in glass products that are admired by people nowadays? Making full use of our outlook as a wholesaler, we will proceed in creating new world of glass product by striving together with downtown Tokyo's handmade glass factories, Edo Kiriko craftsmen, designers, and creators.
▼ Download Brandbook(PDF:23.3MB)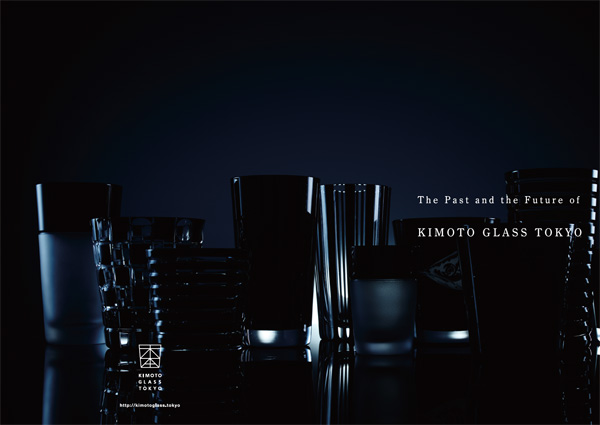 Download Adobe Reader here (external link: will open in a new window)